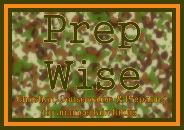 Times are tough, and they seem to only be gettin
g tougher for so many. When Y2K was "all the rage" I wasn't phased. About 4 years ago I began preparing for uncertain times. What uncertain time that is, I don't know. Only the Good Lord knows, but I started a pantry that puts a good amount of foods, HBA & cleaning products in our reach at all times. I began researching the trades of my ancestors. They include, but are not limited to- sewing & quilting, gardening, canning & preserving foods, saving seeds, foraging, animal husbandry, etc. I've learned how to scrimp & make do. I've learned how to make breads- yeast breads, quick breads, fry breads, flat breads, etc. I've learned how to cook with fire. I've learned how to look in my cabinets on a lean month & make a meal the family raves about. I've l
earned how to make a menu & stick with it, clean the house with edible cleaning products, etc. I have learned how to make shampoo, laundry detergent & convenience foods from scratch.


I've gained knowledge, the number one tool in surviving hardtimes & hardships. I now have chicks, I'm working on getting rabbits & I've recently met someone whom is willing to allow me the use of some of her land for large animals. I've begun the journey of self-protection.



I am thinking OUTSIDE of the proverbial box, an
d now I want to share this with you and LEARN from you as well. Because the day I quit learning is the day I meet my Heavenly Father!!!


I want to be prepared for a pandemic (Spanish Flu of 1918; swine flu), a natural disaster (Katrina, tornadoes, blizzards) or something only devastating to my own family- a death or a job loss. Sometimes, something as simple as being without water for 12 hours has crossed our path, and we're ready with the storage of gallons & gallons of water. It doesn't mean the end of the world w
hen you think of preparing for survival. Some of the things I've just listed are things that happens as often as a drought in Georgia. It happens as often as you change a newborn's diaper.


So if you are interested in learning or sharing how to prepare for uncertain times, stop by & join Prepwise. We look forward to hearing from you!
**Prepwise is a predominantly Christian Community, but we have different walks among the members. Please don't feel frightened off because of this.